Welcome to the Glorious Gold Coast
Queensland, Australia
NO SHIPPING TERMINAL

Public rally against a shipping terminal in the Broadwater.
11am Sunday Dec 7th, Southport Broadwater parklands.
This Gold Coast Site aims to be The Comprehensive Gold Coast Site on the World Wide Web,
covering accommodation, attractions and much more.

Proudly Australian owned and staffed.
The Gold Coast...
If you like sun, surf and sand, unpolluted air and a relaxed lifestyle, with great accommodation and heaps of tourist attractions thrown in, then you'll love the Gold Coast of Australia.
The Gold Coast can boast an average of 245 days of fine weather each year and daytime temperatures above 22 degrees for 279 days a year. Yes! This is truly the Sunshine State and we're very proud of it. The Gold Coast is located on the Eastern seaboard of Australia just 80km south of the City of Brisbane.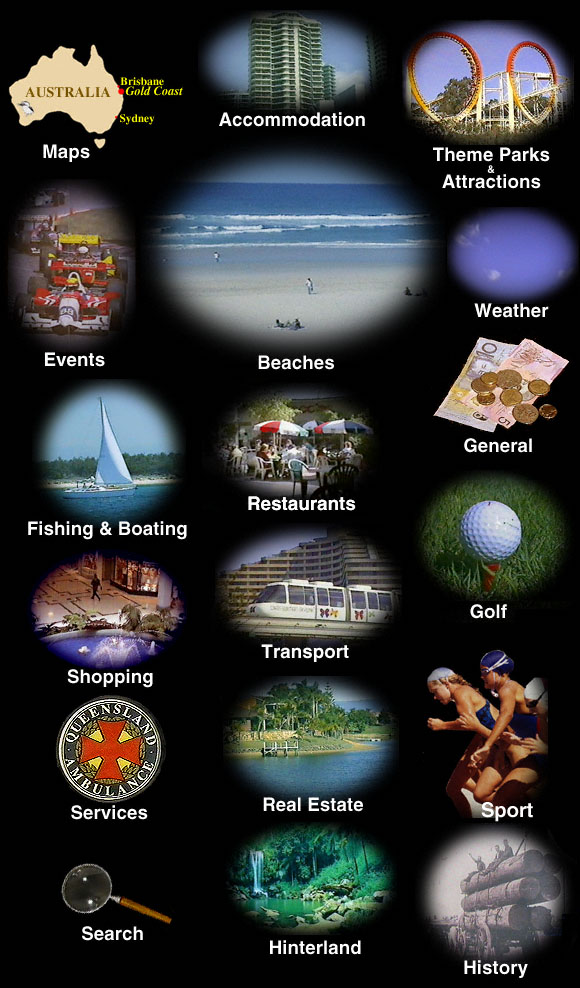 Have a great Gold Coast Visit!
Queensland's Gold Coast, Everything Under the Sun!
If you have any questions, comments or suggestions please contact us on the Gold Coast at: travel@reflections.com.au
Disclaimer:
The information contained in these pages serves as a guide only and was correct at the time of placing on the Internet. Digital Reflections shall not be liable for any accidents, injury, irregularity, loss or damage caused by or arising as a result of information contained within this World Wide Web site.

This page was produced by...

Copyright © 1995-2014