On the Gold Coast we have a large estuarine waterfront area that stretches from Surfers Paradise up to Moreton Bay and Brisbane. This is a distance of some 80 kms. and a total area of hundreds of square kms. of protected waterways containing many islands.

Truly a Boating and Fishing Paradise.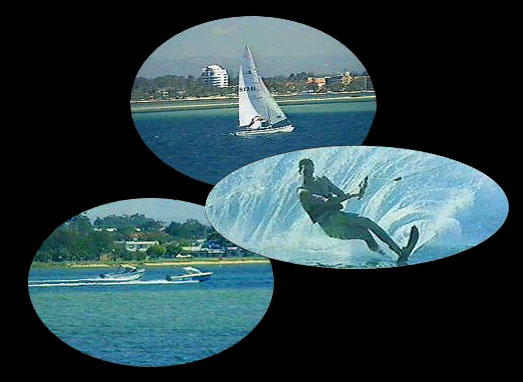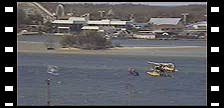 Seaplane over the Broadwater!
For a realistic view of part of the Broadwater, here is a 15 second video of a seaplane taking off with SeaWorld and the Spit in the background...

980k MPEG (384x288, 12fps)

650k MPEG (384x288, 8fps, reduced quality) - for slow connections.
Popular Watersports
Popular boating sports include local fishing and crabbing, charter boat hire to the open sea fishing grounds and cruises in and around the Broadwater to South Stradbroke Island and around the Nerang River and the canals.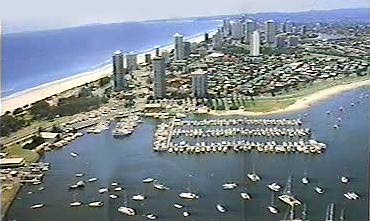 Small boats can be hired for a fun day out on the Broadwater or houseboats can be hired for longer periods. Tall Ship cruises are also available as well as parasailing, water skiing, barrel riding, sailing club activities, speedboat racing, sailboarding, and jet skiing.
Dive operators provide Scuba Diving for the novice or experienced divers and the large trawler fleet brings home beautiful fresh seafood for the tourists daily. The Southport Yacht Club, Sanctuary Cove and Runaway Bay Marinas provide all kinds of boat servicing and storage facilities.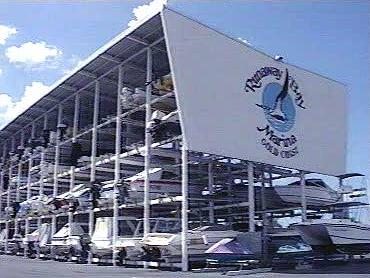 Camping Areas on the Broadwater

Adjacent to South Stradbroke Island Resort Ph 55 77 2849


Curridgee on South Stradbroke Island Ph 55 77 2577


Broadwater Caravan Park Southport Ph 55 81 7733

South Stradbroke Island
The Island was separated from North Stradbroke Island by a cyclone in 1896. Mostly uninhabited the island makes a perfect picnic spot for "boaties" and tour craft. There is a Hotel at Tipplers and a small ferry runs from Runaway Bay Marina for $20 return. Native wildlife such as wallabies, goannas and birds abound.
Fishing
Beach fishing is popular particularly in the winter when the tailor are running. Other fish to be caught on a regular basis are bream, flathead, whiting, dart. It is ILLEGAL to keep UNDERSIZE FISH as this keeps stocks from being replenished by normal reproduction. Your own fishing future would be ruined should our stocks become low.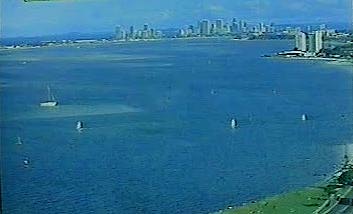 NOTE: There is a bag limit on fish which applies to any combination of reef fish ie. Estuary Cod, Potato Cod, Coral Trout, Red Emperor, Spangled Emperor, Spotted/Black Jewfish, Black Kingfish, Mulloway, Maori Wrass,Nannygai, Pearl Perch, Qld. Groper, Rosy Jobfish, Snapper, Terraglin Jewfish, all Tusk fish, Wahoo and all of the Mackeral types except for the Shark Mackeral,
Offshore Fishing
Offshore and game fishing catches include snapper, trag-jew, trevally, kingfish, mackerel, tuna, pearl perch, marlin, dolphin fish and some coral species. Valuable research data is supplied by the Game and Sport Fishing Associations through their involvement in the voluntary "Tag and Release" program. Most game fish are released on the fishing grounds after being tagged, with very few fish being brought to the scales.
Rock Fishing
Rock fishing can be carried out on the Seaway rock wall at the tip of Main Beach or at the Rock at Currumbin. Participating in what is recognised as the most hazardous of recreational fishing activities, anglers fishing from rocky headlands should take every precaution to avoid falling victim to that "rogue" wave. Even when fishing above the perceived wave danger level, it is wise to use a safety harness providing that it cannot in itself be a danger to you.
Inland Fishing
Hinze Dam in the Hinterland is the main inland fishing spot. The dam has been stocked by the Fisheries Department with Bass and Golden Perch (Yellowbelly). Only electric motor boats or sailing boats are permitted on the Dam and a Fisheries Permit is required for fishing.
"Play it Safe on the Water"
"Play it Safe on the Water" is a Queensland Transport Department initiative. It encourages everyone to use our waterways sensibly. Some of the suggestions are .....
Licences are required for the majority of vessels and jetboats used on the Gold Coast waterways. Speed boat licences are required in Qld. for all vessels fitted with motors over 6hp. and capable of a speed of 10 knots and over, with a planing hull.

All coastal bars require local knowledge to be crossed to avoid the hazards. Currumbin and Tallebudgera in particular are extremely shallow and should not be crossed on an outgoing or low tide.

If you are using a charter vessel you can check if the vessel has a certificate of survey ( having met certain safety guidelines) by asking the operator or locating the certificate which should be posted in a visible position on the vessel.

Water ski areas are marked throughout the Gold Coast waterways.

Marine rescue groups are active on the Gold Coast : Air Sea Rescue and the Australian Volunteer Coast Guard. Radio rooms are constantly manned so when boating you can contact them with your destination and approximate return time.

Safety equipment should be aboard all vessels and always be aware of the weather conditions.
For the Latest Bureau of Meteorology Weather click below :-

This page was produced by...

Copyright © 1995, 1996, 1997, 1998, 1999, 2000, 2001