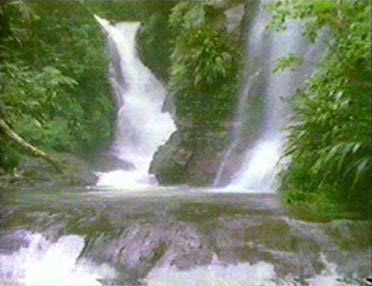 Our Hinterland Rainforests are home to native wildlife that is unique to Australia. There are 160kms of walking trails through the National Parks and Hinterland behind the Gold Coast. These have spectacular views and cascading waterfalls and you'll be able to see and hear the native animals and birds in their natural environment.
Lamington National Park - located west of Springbrook is a 200 square kilometre park and includes highly vegetated areas and 1,100m. high ranges of subtropical rain forest. There you will find gorges, caves, spectacular views, waterfalls, pools and a large assortment of bird life. Most rain in these areas falls between November and March and it is much cooler than the lowland areas.
At Springbrook National Park you'll find Purlingbrook Falls where there is a picnic area, or you can visit Natural Arch where you can swim in the crystal clear mountain waters under the waterfall, take one of the fantastic walks or wait until nightfall and see the glow worms.The rangers office and information centre offer free maps and walking track brochures, open between 3pm and 4pm. weekdays only.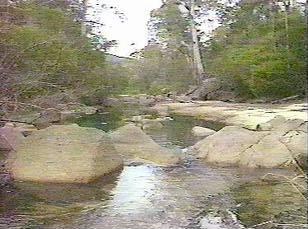 Further south there is Mt Warning where you can scale the mountain when you're feeling fit, or you could travel to Hinze Dam west of Mudgeeraba and relax with a B.B.Q. and watch the sailboats. Fishing (with a permit) is also allowed at the Dam.
Tamborine Mountain is a lush 600m. high plateau just a 30 minute drive (45kms) northwest of the Gold Coast. It's gardens, nurseries and National Parks are a delight for the day tripper. Both Tamborine Mountain and Beechmont are favorite take-off points for the spectacular Hang Gliders. This area has spectacular waterfalls, great views and walking tracks, also B.B.Q. areas and a shopping village. An Information Centre is at North Tamborine, ph (07) 5545 1171.
Camping grounds

Cedar Creek Lodges at Thunderbird Park

Springbrook National Park, Purlingbrook Falls Bush Camping

Lamington National Park, Green Mountains Bush Camping

Binna Burra (private), Binna Burra Lodge

Tamborine Mountain Caravan and Camping (private), in Thunderbird Park

More coming soon!


This page was produced by...

Copyright © 1995, 1996, 1997, 1998, 1999, 2000, 2001