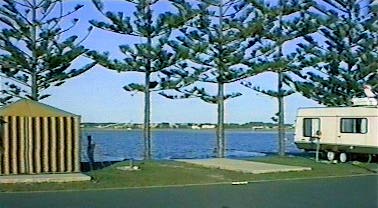 Caravan Parks

King Reef Resort & Caravan Park, Jacobs Rd , Kurrimine Beach. Q 4871Kurrimine Beach is positioned between Cairns and Townsville and is truly a 'get away from it all' paradise which offers the perfect Holiday Hideaway. Our resort is right on the beach and offers a complete range of accommodation styles including - four star beachfront cabins and caravan and campsites in a magnificant tropical setting. Tavern and Restuarant on site.

Greenway Caravan Park, Murray Street, Tully Q 4854, Large shady park set right in the heart of the 'Great Green Way' and the Tully Gorge. Close to all services in Tully. Use as a base to go white water rafting, explore waterfalls, freashwater swimming, rainforest and markets.

Beachcomber Cocount Caravan Village, Kennedy Esplanade, Sth Mission Beach Q. 4852, Set in shady 5.5 acres of tropical rainforest on the beach. Walking distance to shop, restaurant, boat hire to Dunk Island. Seasonal stinger net in front of park. All tour info/bookings at reception. 1998 Nth Qld Tourism Award Winner.
Dunk Island View Van Park, Cnr Webb & Reid Rds., Wongaling Beach Q. 4852, 5 1/2 acres of shady tropical beachfront park over looking Dunk Island. Short stroll to a la carte dining and 5 mins to shops. Close proximity to popular boat ramps and fishing spots.

Mission Beach Hideaway Caravan Park, Porters Promenade, Mission Beach Q. 4852, 6 acres surrounded by rainforest and coconut palms with beach protection. warm clear waters of the Coral Sea. A tropical paradise.Dunk Island and Reef Cruises. White water rafting. Rainforest walks, shopping village, restaurants and bank adjacent to park. Try exotic fruits and seafood.

Tropical Hibiscus Caravan Park, Cassowary Drive, Wongaling Beach Q. 4852, Shady sites, large salt water pool, surrounded by rainforest and gardens. 800m to beach. 150m to shopping village and hotel. Easy access to Dunk Island, Great Barrier Reef, Rainforest walks.

Kurrimine Beach Holiday Park, PO Box 10, Kurrimine Beach Q. 4871, Each cabin/site is individually ladscaped giving a private peaceful setting. Excellent fishing from the beach. Hire Boats. Car/Boat wash down facilities available. Only 50m from the beach with snorkelling on King Reef 50 m offshore. Trips to Dunk Island. Huge pool.

August Moon Caravan Park, Bruce Highway, Innisfail Q. 4860, Set in 9 1/2 acres, a tropical oasis being 4kms from Innisfail town centre, 4kms to boat ramp. Large three level swimming pool with shady drive thru sites. Roadhouse opposite for meals.

Fishery Falls Caravan Park, Bruce Highway, Fishery Falls Q. 4868, Situated 12 mins south of Gordonvale. Drive thru sites in safe surroundings. Lowest rates in Far North Queensland. Relaxed atmosphere - clean amenities, no sandflies.
By-Ways Caravan Park, 317 Kamerunga Rd., Freshwater, Cairns Q. 4870, 12 mins drive north from the hustle and bustle of Cairns City, nestled in cool , tropical Freshwater Valley. Small friendly park which offers the tourist a range of accommodation. Free tour bookings. Close to Kuranda Train and Skyrail. On bus route to city.

Bellbird Caravan Park, 69 Bruce Hwy, Edmonton via Cairns. Q 4869, All ensuite park. Quite area just 10 min to Cairns City centre. Walking distance to shops and hotels. Permanent sites, vans and cabins. Large sites for busses and Motorhomes.

Cairns Coconut Caravan Resort, Cnr Bruce Highway & Anderson Rd, Cairns Q. 4868, Queenslands only RACQ 5 star Caravan Resort and 1997 Queensland Tourism Award winner that abound quality and set in several hectares of lush tropical gardens, providing facilites the whole family can enjoy...yet only seven mins from city centre.

Cairns Villa & Leisure Park, 28 Pease Street, Cairns Q. 4870, Centrally located quality accommodation at affordable prices set on 10 acres of award winning tropical gardens. Quite shady sites, bus at the door and easy walking distance to the shops. Tour bookings with pick-up from the door. All of this and a friendly atmosphere.
Cool Waters Caravan Park, Cnr Brinsmead Rd & View St, Brinsmead Q. 4870, A picturesque park more like a botanical garden with a tropical setting, situated on a clear running fresh water creek with magnificent mountians as a back drop. A birdwatchers delight, this manicured park is described by visitors as one of the most beautiful parks in Australia. 4 1/2 Stars.

Crystal Cascades Holiday Park, Intake Rd., Redlynch, Cairns Q. 4870, Close attractions skyrail, northern beaches, Kuranda Train, Tablelands. Owners Russell & Jenine welcome you to this magnificent location where the rainforest meets the park. Set beside a beautiful mountain stream. Shady sites. Bird watchers paradise. Peaceful, serene, no traffic noise, 15 mins from Cairns City Centre.

Crystal Valley Village, 58 Intake Rd., Redlynch, Cairns Q. 4870, 15 mins drive to Cairns City Centre and major Shopping Centre, pleasant environment, scenic view of surrounding mountians and sugar cane field, close to attractions, skyrail, kuranda train, beaches, bus at door, walking distance to hotel and TAB - counter meals.

First City Caravilla, Kelly Street, Earlville Q. 4870, 6.5 acres in tropical surroundings. Near the city, quiet and peaceful with abundance of birdlife, short bush walk nearby, walking diastance to hotel, Liquor barn, TAB & famous counter meals. Also walking distance to larger shopping centres and restaurants.
Freshwater Caravan Park, 308 Kammerunga Rd., Freshwater Q. 4870, 12 mins to City on beautiful freshwater creek. Magnificent tropical shade strees throughout park. 10 mins to airport and northern beaches. Booking Office for all tours. Bus to City passes door. 500m to shopping centre & hotels and Kuranda Tourist Train Station.

Lake Placid Caravan Park, Lake Placid Rd., Lake Placid Q. 4878, We welcome you to 14 acres of tropical rainforest nestled at the base of the Barron Gorge National Park. This quiet unique setting provides relaxation and a pleasant environment with scenic views of surrounding mountains. You can feed the perch, barramundi, sooty grunters, eels, ducks and turtles, and view the Kuranda tourist train winding its way along the mountain track. Located 14 kms north/west of Cairns city and central to the main tourist attractions. Top Tourist Park member discount.

Moncrieff Park, Lot 1 Freshwater Rd, Freshwater, Cairns Q. 4878, Set in the picturesque Baron Delta on the banks of Freshwater Creek is 4 acres of camping paradise. Our special African Safari Lodges offer luxury accomodation under canvas. Eco-tourism at its best and the ultimate in camping in the great outdoors.

Paradise Gardens Caravan Resort, Cook Highway (Cnr Clifton Rd) Clifton Beach Q. 4879, Set in 5 acres of trees and gardens. 3 min walk to safe beach, 100m to service station, shops and tennis courts. A bird lovers delight. Quiet and relaxing. No pets.

Sunland Carapark Inn, Cnr Pease & Resservoir Rd.,Cairns Q. 4870
Large shady well established park being 3.5 kms form City. Two amenities blocks with coin laundries. All roads are concreted with speed bumps. Quite park with minimum traffic noise. Cabins air conditioned with colour TVs and ensuites. Bus to City passes door.
Whiterock Caravan Park, Skull Rd., Whiterock Q. 4868, Ample powered tourist and permanent sites. Within 10 mins of major shopping centre, drive in theatre, hotels and racecourse. Next door to 18 hole golf club and only 6kms to Cairns City Centre.

Wintersun Caravan Park, 116 Trinity Beach Rd., Trinity Beach Q. 4879Close walk to beach, natural unspoilt setting, large sites, easy drive to Cairns City, Port Douglas, Atherton Tablelands and Wilderness areas.

Woree Van Park, 664 Bruce Highway, Cairns Q. 4870, Situated 6 kms form City Centre. Large shady trees. Walking distance to large shopping town. Budget pricing, Pool and waterslide. Colour TV in all accommodation. On main southern highway. 3 Star rating.

Yorkeys Knob Beachfront Van Park, 69-73 Sims Esp, Yorkeys Knob Q. 4878, Located on safe beachfront, 50m to shop, telephone, petrol. 1km to boat ramp. 6 min drive to City Centre. Bus stop to City at park entrance.
Full tour/recreational office on site. Free tour pickup from park arranged. Golf Course only 1km away.

Ellis Beach Leisure and Van Park, Capt Cook Highway, Ellis Beach Q. 4879, Absolute beachfront, stinger net in season.

Four Mile Beach Caravan Park, 2-12 Reef Street, Port Douglas Q. , Absolute beachfront Caravan Park with over 40 species of Ancient Rainforest trees which are all named. BBQ and Laundry facilities. Situated on famous Four Mile Beach with large shady sites.

Glengarry Caravan Park, Mowbray River Rd., Port Douglas Q. 4871, Resident owners Dennis, Natalie, Brian & Kathy Berzinski welcome you to our park nestled in the foothills of the Mowbray River Valley. Offering a peaceful bushland setting yet only 8kms from Prt Douglas centre.

Tropic Breeze Van Village, 24 Davidson Street, Port Douglas Q. 4871, Right in the heart of Port Douglas, Tropic Breeze Van Village is only 100m from 4 Mile Beach and within esy walking distance of town shopping area and marinas.

Pandanus Caravan Park, Davidson Street, Port Douglas Q. 4871, Shady tree lined quiet park, close to the beach, marina, golf club,shopping etc. Tour bookings. Major credit cards accepted, comfortable familt style self contained, air conditioned Units and Cabins.

Pinnacle Village Holiday Park, Vixes Rd., Nth Wonga Beach Q., Superbly located on North Wonga Beach with secluded beach frontage. Quiet peaceful surrounds, tropical gardens, abundance of birdlife with adjoining national parks. Close to Daintree, Cape Trib, Port Dougals, Mossman Gorge and all other major tourist attractions.

Atherton Caravan Park, Yungurra Rd., Atherton Q.4883, A quiet park set on 5 acres of rich volcanoc soil in the heart of the Tablelands. 4kms to the centre of Atheron. There are lots of shady trees, large lawns and landscaped gardens. Close to Tourist Attractions. 1 Hr to Cairns.
Cooktown Orchid Travellers Park, Cnr. Charlotte & Walker Sts, Cooktown. Q 4871. Set in the centre of Cooktown, walking distance of shops, bank, post office, hotels,medical facilities, bowls, wharf, museums, restuarants and tourist information.Easy access to sheltered beaches, botanical gardens, boat ramp, reef and river trips.

Atherton Big 4 Woodlands Tourist Park, 141 Herberton Rd, Atherton Q.4883, Set in 6 acres of tropical landscaped gardens, backing onto State Forest. Popular with bird watchers, short drive to main attractions, waterfalls & lakes etc. No highway traffic noise. Feed the native animals

Atherton Halloran's Leisure Park, 152 Robert Street, Atherton Q. 4883, Park is situated approx 2 kms from the business centre up upon a large hill giving it a scenic view hence the name Mountain View Van Park. We are the closest park to the business centre of town. It is a quiet and peaceful park set on 6 1/2 acres of land.

Malanda Falls Caravan Park, 38 Park Av., Malanda Q. 4885, 6 hectares of parkland, adjacent to Malanda Falls in the centre of the Atherton Tablelands. Lakes, Crater, natural rainforest, waterfalls. Abundance of bird life, bush and rainforest walking tracks. A great place to stay enroute to Gulf country.
The Falls Holiday Park, Malanda Rd., Millaa Millaa Q. 4886, Situated 60kms from Innisfail at the southern gateway to the Atherton Tablelands and close to the areas famous waterfalls. National Parks and beautiful scenery. Most sites are in a rainforest environment. Millaa Millaa Gold Club adjoins the park.
---