The Cairns region has several great swimming locations along on a 16 mile stretch of white sandy beaches and crystal clear, azure waters. The Great Barrier Reef prevents large swells reaching the coast, creating a safe swimming haven for travellers to the region.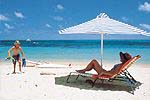 Small seaside communities welcome visitors to their town's attractions which are all unique with their own characters. There is plenty of accommodation in the area including island and mainland resorts, motels, holiday apartments and caravan parks. The coast is dotted with tropical palm trees and the beaches are more beautiful the further north you travel.
Fifteen minutes north of Cairns is Yorkeys Knob with its popular Marina and Yacht club, then Trinity Beach, which is a sheltered location perfect for windy days.
Clifton Beach, Kewarra Beach, Palm Cove and Ellis Beach complete this stretch of tropical paradise, and at Palm Cove, stop to have a coffee in one of the many cafes and restaurants along the al fresco dining strip, as well as a spot of shopping in some great clothing boutiques and chic shops.
Stinger Net enclosures are located at the beaches between October and April to keep out Box Jellyfish and other dangerous marine life that are present on Northern Queensland beaches.
Water sports activities are present on the beaches and you can either take public transport (timetables available at your hotel) or hire a car for transport to the area.
Alternatively, and especially during the box jellyfish season, why not try a local swimming hole including the clear, cool Crystal Cascades just 20 minutes from Cairns, and also close to the city is Lake Placid. The Atherton Tablelands, an hours drive away has Lake Barrine, Lake Tinaroo, Lake Eacham or waterfalls such as Mareeba Falls and Millaa Millaa Falls.
For some great swimming locations 61 kilometres south of Cairns, head to Babinda, a small council reserve with two swimming spots, the Josephine Falls and the Boulders, set amongst rainforests of the Wooroonooran National Park. While you're here, take a bushwalk, pack a picnic and check out the Aboriginal heritage of the area.

back to Attractions page
Photo provided by